1 yellow onion, peeled and sliced
1/2 red pepper, cored and sliced
1/2 yellow squash, sliced
1 zucchini, sliced
1 1/2 tomatoes, cut into 8 sectors
1 1/2 cup of dark red kidney beans
6 garlic cloves, minced
1 tablespoon olive oil (optional)

1/4 teaspoon black pepper
fresh rosemary

The oven was preheated to 400 degrees. All the ingredients were put in a bowl and mixed to coat with the oil (I actually used a half tablepoon as I usually avoid all oil -- this was a Christmas treat). They were then transferred onto a baking dish lined with aluminum foil and cooked for one hour to produce: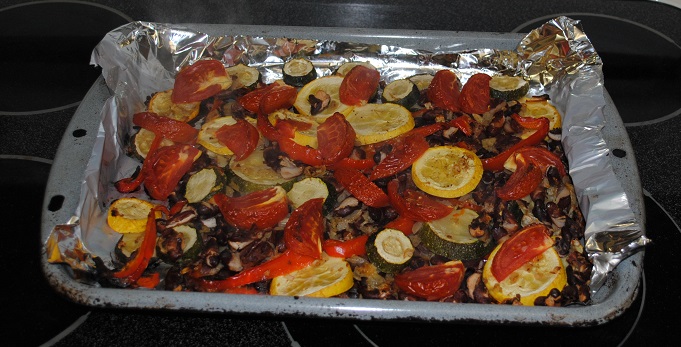 4 large red potatoes cut into eights
1 tablespoon olive oil (optional)

4 cloves of garlic minced
2 teaspoons of chopped fresh rosemary
All ingredients except the rosemary, were put in a bowl and mixed and then transferred into a corelware baking dish. (Again, I actually used a half tablepoon as I usually avoid all oil -- more Christmas treat). They were placed in the oven, with the mixed vegetables, so as to have 45 minutes cooking time. When the dish was taken out the potatoes were sprinkled with the rosemary. This resulted in the following dish: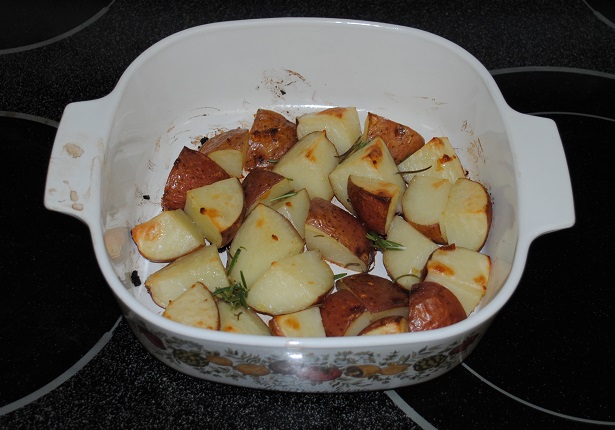 Roasted Brussels Sprouts
a dozen small Brussels sprouts, ends trimmed and discarded, buds cut in half
the seeds from 1/2 of a pomegranate.
1/8 cup of water
Put all in a baking dish and place in the oven with the other dishes, so as to give about 25 minutes cooking time. Check the water after about 10 minutes and add a little if necessary. The results: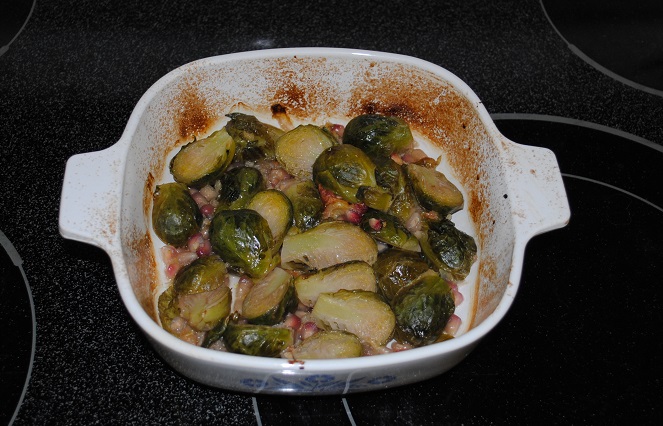 Mushrooms
1/2 pound small button portobello mushrooms, quartered
The mushrooms were sauteed for about 15 minutes in water so as to be ready when the other dishes came out of the oven.

Serving
The result at the end of the hour of cooking was attractively served on Royal Doulton china

which were then taken to the beautifully laid table.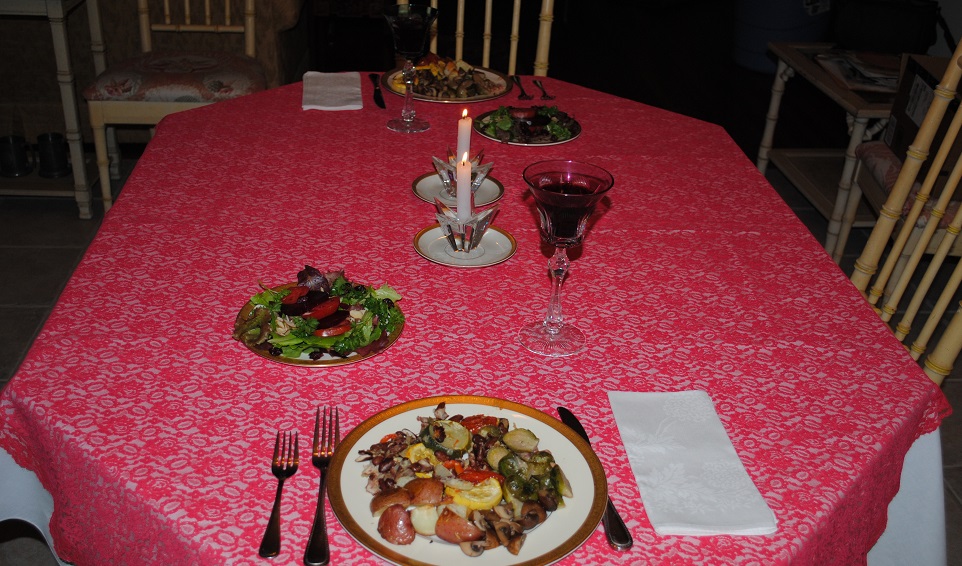 The lovely glasses are crystal glasses that belonged to my mother, Phyllis, filled with and Australian Rosemount Shiraz. The salads featured three varieties of fresh lettuce from our garden together with tomato, beets, dried cranberries and sliced almonds.

We wish you could have been with us!

Credits

The first two dishes were adaptations of recipes in "Veggies" from Kappa Books Publishers, LLC and purchased from Dollar Tree for $1.!

The Brussels Sprouts are a very poor adaptation of a dish designed by Calley Masson, one of Christine's yoga instructors.

Christine did the beautiful table layout and took the photos

Leuken's Liquors who featured the shiraz at $5.99 a bottle!